Collect for Holy Cross
Almighty God, whose Son our Savior Jesus Christ was lifted high upon the cross that he might draw the whole world to himself: Mercifully grant that we,
who glory in the mystery of our redemption, may have grace to take up our cross and follow him; who lives and reigns with you and the Holy Spirit, one God, in glory everlasting. Amen.
Dear Sisters and Brothers in Christ,
Holy Cross Day is celebrated on Saturday, September 14. This day remembers the dedication of the buildings completed in the fourth century, on September 14, 335, that honored the places in Jerusalem where Christ was actually crucified and resurrected. Emperor Constantine's mother, Helena, directed the excavations and discovered a relic believed to be that of the true cross. If you visit Church of the Holy Sepulcher in Jerusalem, you will be standing on the site where these buildings were originally erected. It is an awesome experience.
We will be using this powerful collect on Sunday as we also celebrate Homecoming. Please join us as we regather after summer vacations and travel, and in anticipation of this new school year with the gift of our blessed time together. As part of the service, we will be honoring and commissioning our volunteers, as well as blessing new members and friends. All are welcome!
Sunday September 22 at 4 p.m. is an historic occasion for Saint John's Getty Square as Bishop Mary Glasspool officially institutes me as your Rector, the first female rector in our 326-year history. I am profoundly moved by all of this, and especially by all of the great musicians (including our son Jonah and daughter Nadia!) who will be joining us for the occasion. Thanks to Jason Slayden who is composing some wonderful special music! You won't want to miss this.
In addition, we will be hearing a musical offering from Young at Arts, the after school thriving music program that is the inspiration for our collaboration with Father Michael Bird and Christ Church, Bronxville for our future endeavors on this property. Stay tuned!
Don't forget to join us on Thursdays from 7 a.m. to 4 p.m. for our wonderful Farmers' Market and Thrift Shop. The whole world joins us as families and children come and buy fresh produce, corn, fruit, flowers, bread, coffee, donuts, hot dogs, and second-hand clothing and items. By the way, we could still use donations of soda as well as fall and winter clothes, kitchen articles (especially pots and pans), and jewelry. Thanks to all who have donated their time and items to make this Thrift Shop so successful!
Prayers for those who are trying to recover from Hurricane Dorian, and especially for those who have lost loved ones (there are still 2,500 people missing!) in addition to devastated property and possessions. If you wish to donate to Episcopal Relief and Development to help out, their information is below.

We pray also for all of our children who are returning to school. May God protect them and all of us in this fearful world, that we may learn and grow in grace and love.
See you Sunday!

Blessings and much love,
Vicki+
The Rev. Canon Victoria R. Sirota
Rector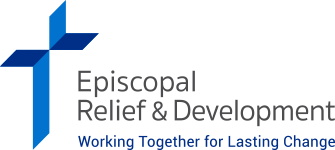 https://www.episcopalrelief.org /

Episcopal Relief and Development is collecting money for Hurricane Dorian Relief. The link to donate is listed above.